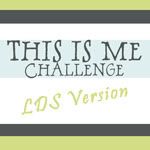 I am taking a challenge that involves recording my testimonies, memories and other things in order to share my deepest thoughts for family history and to express myself. Feel free to join in the challenge with me.
#1 Challenge: Record your testimony and how you gained it.
I grew up in the church of Jesus Christ of Latter-Day Saints. I have always had an active mom and an inactive dad who divorced when I was 3 years old. I have always remembered having scripture study, Family Home Evening, Sunday Church and as I got older I was very active in the youth program.
Although I have been active during my childhood and youth and even after helping my husband become a member of the church and then after going to the temple to be sealed for Eternity, I still didn't have a REAL testimony of the church. I believe that I just went along with everything and didn't really try to figure it out for myself.
Don't get me wrong, I did know that it all felt right after going to my friends churches. I knew it felt good to pray and read the scriptures and when I was baptized at the age of 8 it was a wonderful feeling as well as when me and my husband and three kids at the time were all sealed as a family forever. But I didn't REALLY know for myself the truth of it. I knew the good feelings but never asked and pondered it all.
A time came when I didn't even know if I would ever go to church again, although my husband assured me that we would "just not now." We were both in a rut and I was seriously wondering if anything in the church was even really true. I went from feeling good and uplifted to questioning everything.
After being inactive for about 4 years and moving to a different state (NC to AZ) and becoming pregnant for the 5th time, things started to change, especially once two sister missionaries showed up at our door. I will never forget those sister missionaries and the baby boy that I was carrying in my womb and later miscarried. The three of them were my angels in disguise and slowly led me and my family back to church. This happened about a year ago.
The missionaries were very patient with me and answered all of my questions. They also invited us to church and to fully read The Book of Mormon (which I have never done by myself) and shared their deep thoughts and testimonies that I wasn't expecting to hear. One sister said that she too actually doubted something in the church and then later caught herself and thought "wow, this isn't me." It was after I heard that and my husbands testimony that I really started to look within myself and pray again. I too, noticed that I was not acting like myself the last 4 years. Satan really was trying to trick me into believing otherwise and turn me away from the truth that would lead me back to my Heavenly Father. Once I knew this, I knew I had to find myself and my own testimony again.
Soon after this, our baby boy, John, was called to Heaven. I remember joking with my mom that I was super emotional and receiving the missionaries in our home because I was pregnant and feeling the spirit easier. My son, John helped me. Once he was gone I wanted to feel him again and I knew one way to do it was to feel closer to my Heavenly Father. I prayed. I picked up The Book of Mormon and read it all then continued to D&C and then onto Pearl of Great Price and now I'm currently reading The Old Testament. As I read and prayed I did feel John's presence, but not only him, but I knew that my Heavenly Father was watching over me and guiding me as I read and that the Holy Ghost was once again in my heart as my heart was softened. I read The Book of Mormon front to back and then I prayed again. I prayed to know if the church was really in fact true (although I did have lots of questions answered and was getting that "good feeling" back again). I still asked. I received an answer. I will never forget the release I felt come off of my shoulders, the feeling of being lifted up and incredibly warm inside my soul and the unbelievable feeling of pure joy and peace. I knew right then, that my question had been answered and I was shown and reassured that The Church of Jesus Christ of Latter-Day Saints is indeed the true and living church of Christ and our Father in Heaven.
As I felt that peaceful feeling and remembered other peaceful feelings I had felt in the past, I knew it had always been true and I knew that only the church and Heavenly Father could ever give me the feeling of peace. I could not find it anywhere else and now that I have it I never want to let it go ever again. I will forever hold onto my testimony and take care of it and help it to continue to grow and grow and grow. I am so grateful for this experience. However, I feel terrible that I ever doubted it and that it took an extravagant event in order for me to realize just how special the church is. I also feel horrible for taking the church for granted and never fully reading the scriptures myself for my own knowledge and testimony. I wish I would've done it earlier in my life. I know that my Heavenly Father has forgiven me of my stupidity and selfishness, thanks to the atonement and sacrifice of my Savior, Jesus Christ. I will never forget this experience and I am so happy to know the truth for myself.
I know that my Heavenly Father loves me and that I am his daughter, a princess. I know that he sent his son, Jesus Christ, down on earth to die for all of us. I know Jesus Christ is my brother and the one whom I am trying to be like and follow. I love my Father and Brother very much, with all my heart. I know that there have been many prophets in this world and there is a living prophet today who helps lead us back to Heavenly Father. I know without a doubt that The Book of Mormon from front to back is true. I am so thankful to have the scriptures in my life to help guide me. I believe in the plan of salvation and understand and look forward to the life after this one on earth, with my eternal family. I am so thankful for the power of prayer and the Holy Ghost to help guide me through-out my days and help answer my prayers. I am so thankful for the priesthood in my home and that Joseph Smith who was the first modern day prophet who was able to bring back the priesthood on earth. I could not be this happy and peaceful without the gospel in my life. I am so thankful for the gospel and everything that includes. I love it and I know that I will never let it go. I will continue to hold onto this rod and I will endure to the end. I know that the Church of Jesus Christ of Latter-Day Saints is true!
During my "searching time" I went through a musical time and only listened to church music. I want to share this song, which I think explains exactly what I have gone through and come to realize. This is me...
Again by Jessie Clark Funk (who is now my favorite singer)
I've wrestled with demons and darkness
I've wrestled with what has been lost
I carry this crushing weight on my shoulders
And try not to think of the cost
It's more than a single decision
It's giving up part of myself
It's something I simply cant' do on my own
So I'm pleading with You for Your help
Chorus:
Again and Again
I've asked myself why
I don't think that I have any tears left to cry
My soul is so tired and I'm longing for rest
I'm giving my all and I'm doing my best
It hurts to move on from the place I am in
But You understand where I've been
And You reassure me it's time to start over
Again
I'm finally read to listen
I'm finally ready to hear
Struggling to get to a place You can reach me
Where peace can speak louder than fear
I can't see the end of the story
There's no way to know how it ends
For now I let go and I trust You to lead me
And show my heart where to begin
Repeat Chorus
All of the pain and confusion I'm going through
I'm turning it over to You
Willing to trust it's the right thing to do