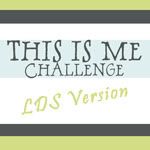 The next challenge: What has been the biggest trial in your life so far? How did you overcome it and what did you learn?
It's hard to pick only one trial that has been hard. I feel like everyone can say they've had a handful of trials. I'm going to list my handful but they are not in any certain order as I believe they were all very hard.
When I was 16 years old my grandma passed away. My grandma was my best friend. I loved her so much. I was pretty much devastated when it happened. I turned to drugs and alcohol when she was very sick and after she passed away. It got to be pretty bad, I was even at the point of drinking alcohol at school and skipping school to get high. It was a way of numbing the pain and escaping from the reality. I couldn't believe that she was gone. It broke my heart. I didn't fully "overcome" it until later in my life after meeting my husband and talking to him about my feelings. It took about four years until I felt that I was okay with everything. I think getting married and giving birth to my first child helped with it. I learned that death is just a part of life and my testimony of the plan of salvation and eternal families grew. I learned a lot about myself and the things that she taught me... laughing, having fun and being myself.
Nine years ago my daughter Liberty has a heart surgery. During her heart surgery she suffered a stroke. The stroke was so severe that she had to have a brain surgery to remove half of her skull. The surgeon told us that it was a 50% chance that she would make it. Thankfully, she did make it. We were also told that she would not be able to talk. However, she is talking and walking today. She still has some challenges on her right side (especially her hand), but she has overcome her challenges so much. My marriage pulled me through this. I seriously don't know what I would've done if I didn't have the husband that I do have. We were each other's rocks. I learned a lot about the body. I learned how strong, brave and courageous my daughter is. She is my inspiration every single day. I love you Liberty!
My husband is a member of the United States Air Force. He has been on 3 deployments to Iraq/Kuwait. His job consists of traveling through the hazardous areas. Every time he is gone my heart sinks a little and I feel as though I am constantly holding my breath. It's hard to be the mom and the dad in some situations. It's hard worrying about my husband. It's hard being away from each other and taking on the feeling of loneliness and sadness. My kids have helped me during the deployments. I am so thankful that I have four children that keep me busy and even help around the house when it's needed. They really are a true blessing. I've learned that I am strong and independent. I've learned how to fix certain things and do things on my own. I've also learned just how much I love my husband and we try not to take our time for granted.
Almost a year ago I had a miscarriage at 17 weeks. This was a turning part in my life that helped lead me back to Heavenly Father and Church. It may have led me back but it was also very hard. I felt like my whole world stopped and everyone else kept moving around me. I was so sad. Sad isn't even the word. It was terrible. I got through it by reading the scriptures. As I was reading the scriptures and praying I felt His presence and the presence of my little angel in Heaven. My faith, prayer, repentance, scriptures and testimony pulled me through. I know for a fact that nothing else could. I am so thankful for the gospel in my life. I learned more about the plan of salvation and our purpose here on earth. I also learned a lot about the Savior and my love for him grew so strong.