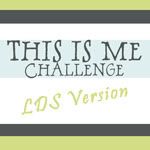 The Challenge: What is your favorite hymn and why?
I LOVE music! It's amazing what music can do for your soul. I have found that sometimes in my life I have a hard time expressing what I'm feeling but then I hear the lyrics to a song and I feel like that song was made just for me! I also love the different rhythms and beats that each song in every genre bring. I'm glad that the question isn't "what is your favorite song?" because that would be impossible to answer. This is still very hard, but at least I can just name Hymns. I'll make a list of my favorites (notice the S) and then a second list of close runner ups that almost made my favorites. It's hard because what may be my favorites now may change tomorrow. My favorite songs change depending on my mood or what I'm going through in my life. Anyway, I'll share what I have enjoyed recently. I wish I knew more hymns!

My favorite Hymns
*Families can be together forever- I want an eternal family
*I Need Thee Every Hour- I know I am never alone.
*How Great Thou Art- It's about nature and all that God and Christ has done!
*I believe in Christ- The title says it all.
*Because I have been given much- I feel thankful and like I should do more.
*There is Sunshine in my soul today- Makes me happy
*Count your blessings- The title says it all, be thankful
*The Lord is My Light- It always makes me feel better and really praises the Lord.
*More Holiness Give Me- Makes me want to be better.
*God be with you till we meet again- Makes me cry every time.
*I'll go where you want me to go- Faith and trust
*I stand all amazed- Makes me feel thankful for all the Savior has done.
*The Lord is My Shepherd- The title says it all.
*I know that my Redeemer Lives- The title says it all.
*Lord, I would Follow Thee- title says it all
*Put your should to the wheel- getting through the hard times
*Onward Christian Soldiers- Standing up for what we believe in
*Love at Home- it's what I want for our family
*Praise to the Man- I love the rhythm and it's about the prophets!
*Come, Come, Ye Saints- It's about not giving up!
*Called to serve- pumps me up and I like the rhythm
*I am a Child of God- Because that is the first song every LDS child learns
*Teach me to walk in the light- whenever I hear this I want to be a good mom
*Love one another- title says it all
Almost Favorites
All Christmas Hymns
All Patriotic Hymns
I know my father lives
O My Father
Come, Follow Me
Be Still, My Soul
Let us all press on
The Iron Rod
Battle Hymn of the Republic
Joseph Smith's First Prayer
The Spirit of God
Have I done any good?
Do what is right
Choose the Right
As I search the holy scriptures
Sweet is the work
I really enjoyed putting this list together. It makes me want to listen to more Hymns. I have been listening a lot to LDS artists but not Hymns. Both can be a very spiritual lifting experience, especially the hymns because they were written for us especially in our time.